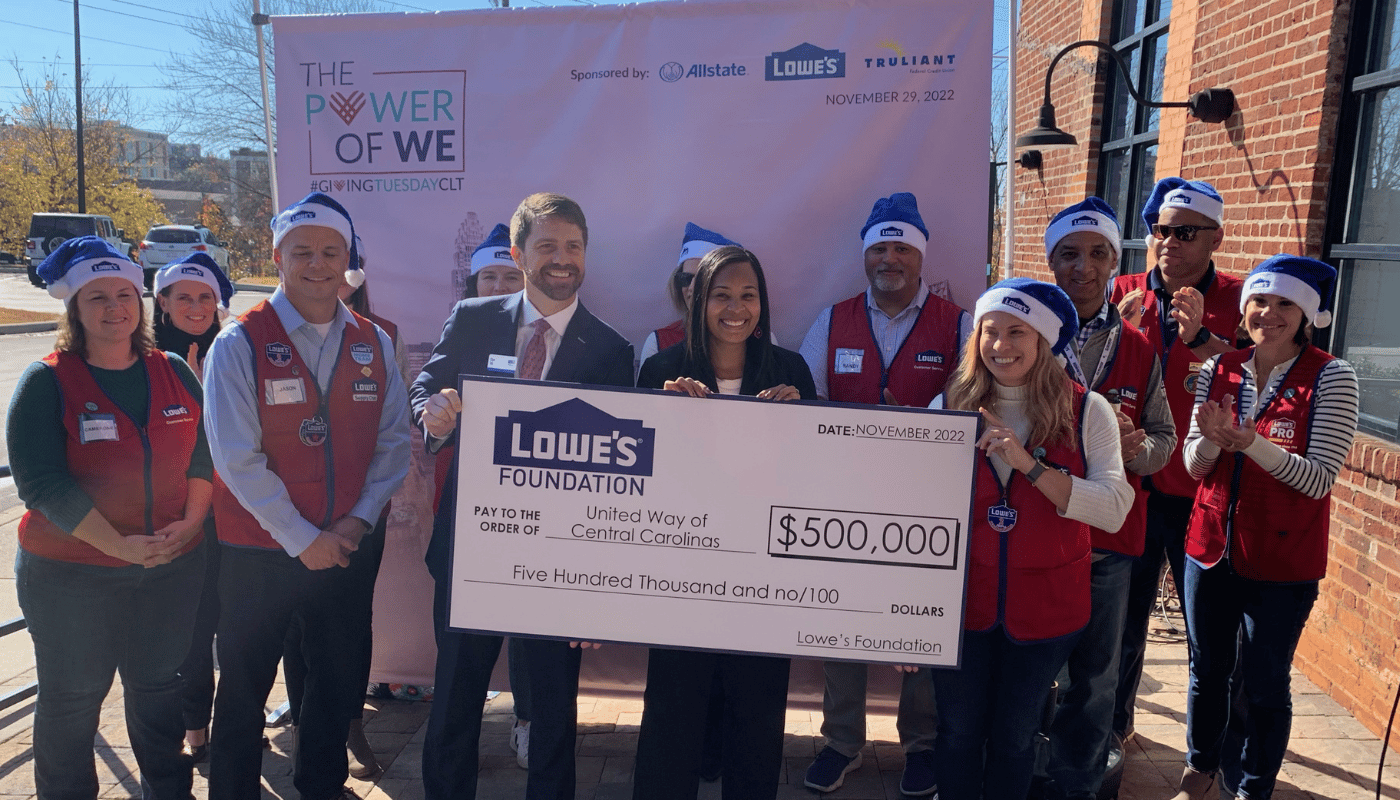 Lowe's Investment Strengthens Communities
Lowe's Foundation gives $500,000 to United Way of Central Carolinas to fund expanded United Neighborhoods efforts across the Charlotte region.
On Giving Tuesday, the Lowe's Foundation announced a $500,000 investment to United Way of Central Carolinas. The Lowe's Foundation has an impressive record of funding bold, innovative efforts to support some of the most critical challenges facing Charlotte today. In 2021, the Lowe's Foundation provided United Way funding to lead an effort aimed at transforming the way Charlotte finds new homes for those experiencing homelessness.
"We have been partnering with United Way for quite some time. Our Lowe's Foundation support, $500,000, will go towards neighborhood initiatives to help strengthen communities, help them advocate and help them get all of the services they need to have a very strong, resilient and vibrant neighborhood," said Betsy Conway, Director of Community Relations at Lowe's.
In spring 2022, the City of Charlotte proposed a Staying in Place initiative in three neighborhoods that were at high risk of displacement: Winterfield, Washington Heights and Hidden Valley.
United Way will partner with the City of Charlotte to enhance and strengthen the Staying in Place pilot, which will offer a range of supports to income-qualified residents of all ages. Interventions include homeownership assistance; critical home repair, including a focus on maintaining the tree canopy surrounding a home, and ensuring water and utility connections are in good condition; and an Accessory Dwelling Units (ADU) loan program to provide affordable rental opportunities and create an income stream for kids- and moderate-income homeowners.
The Lowe's Foundation previously invested over $1 million for housing rehabilitation and repairs in the city's Corridors of Opportunity, helping residents remain in safe and healthy housing.
"We are grateful to Lowe's for their continued commitment to strengthening neighborhoods and supporting the community organizations and services that our residents need to stay in place," said Rebecca Hefner, Deputy Director of Housing & Neighborhood Services at the City of Charlotte. "This generous financial support to United Way will enable the city and our partners to more comprehensively address resident needs through the Staying in Place initiative."
In addition, the City of Charlotte and United Way are also in conversation with Atrium Health to place a Community Health Worker in each neighborhood, providing an additional layer of support to residents. Community Health Workers screen residents for the Social Determinants of Health, and then connect them to resources both within and outside the community to address identified needs. This work will support United Way's continued investments in place-based work, focusing on neighborhoods in and adjacent to the City's Corridors of Opportunity.
The neighborhoods participating in the Staying in Place pilot are located in three of the six corridors: Winterfield in Central/Albemarle; Washington Heights in Beatties Ford/Rozzelles Ferry Road; and Hidden Valley in the I-85/Sugar Creek corridor.
This bold investment from the Lowe's Foundation will fund quarterback organizations, support the community grants pools in the Corridors tied to the Staying in Place pilots and fund a new position to support the expansion of United Neighborhoods.
"We are so grateful for Lowe's and they understand the need of keeping people in their house so that is what we are using this money to do – keep people in place and expand the work they need in their neighborhoods," said Jamese Ivy, Director of Community Initiatives at United Way.
Thank you, Lowe's Foundation, for the generous gift in support of United Way's place-based work.