We help identify the greatest need, from neighborhoods and families to emerging causes, and then collaborate with our network of partners to provide impactful solutions and programs. Amplifying the voices of people who live in and with our communities is the only way for actionable, transparent and sustainable change.
Build Authentic
Relationships
Cultivate relationships and learn each community's aspirations, strengths and needs.
Create and invite collaborative solutions to help achieve aspirational goals.
Develop grant
APPLICATIONS
Establish proposals tailored to grassroots organizations and community-specific needs.
Facilitate A Collaborative
Grant Process
Determine which agencies are eligible for grant application and funding based on our values.
Invest in leadership development that strengthens and refreshes community impact.
Repeat this process to continue tackling tough challenges and strengthening communities in Greater Charlotte.
Powered by funding strategies tailored to meet the priorities of Anson, Cabarrus, Mecklenburg and Union Counties, we support and strengthen each region's community.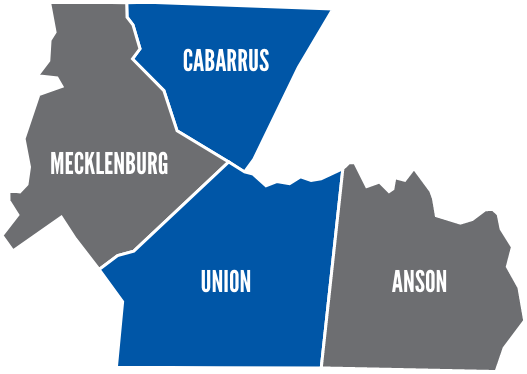 Select a county on the map to learn more Behind all of our work, there are people like you who get involved in big and small, yet always significant, ways to ensure a better future for our families and communities.