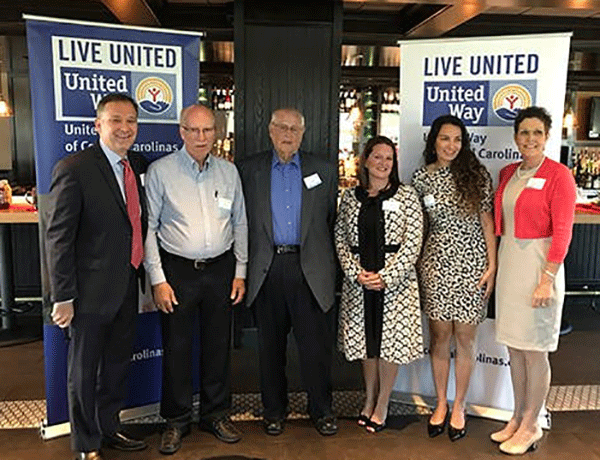 Four Local Volunteers Honored with Governor's Awards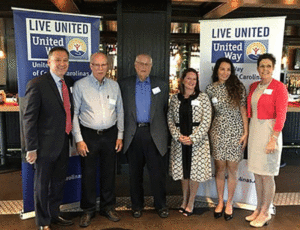 United Way announced the local Governor's Award winners for volunteerism today, including one local honoree who won the Medallion Award: Cindy Adkins, a volunteer for Hospice & Palliative Care of Iredell County.
The awards coincide with National Volunteer Week, April 23-29, known locally as Do Good Week. United Way's Hands On Charlotte and Share Charlotte help organize and promote the annual awards along with promoting Do Good Week, which culminates this Saturday with Hands On Charlotte Day.
The Medallion Awards are North Carolina's highest honor for volunteerism – only 20 are given across the state. The other three Governor's Award winners honored along with Adkins during an appreciation breakfast at Village Tavern today were:
Tom Medford, for volunteer work with Daniel Stowe Botanical Garden
Gale Pendergraph, for volunteer work with Charlotte Douglas International Airport
Ingersoll Rand, for the Davidson-based company's volunteer work across the Lake Norman area and volunteer leadership with United Way
Harry Swimmer of Misty Meadows Mitey Riders, a therapeutic riding program for special-needs children, spoke to the award winners about the impact of volunteers to nonprofits. WBTV anchor Jamie Boll emceed the event.
United Way is the local administrator of the Governor's Awards, which are overseen by the North Carolina Commission on Volunteerism and Community Service.
Governor's Award Winner Bios
Cindy Adkins
Cindy volunteers with Hospice & Palliative Care of Iredell County – working mainly with their bereavement program, Rainbow Kidz. She works tirelessly for their Camp Rainbow and the Ride and Run by fundraising and developing crafts. One year, she hand-crafted 780 neck warmers to sell and raise money for Hospice.
A breast cancer survivor, Cindy is very aware of how fragile life is and often provides direct care as a compassionate companion, providing respite for the patient's caregiver, as well as attending to the needs of patients. She brings in meals for the families that are afraid to leave their loved one as they are nearing death.
Cindy completed her volunteer training in November 2014, and surpassed the 250 hours needed to qualify for and receive the US Presidential Silver service award for volunteerism in 2015. In the past two years, she has donated 715 volunteer hours. Hospice says there is only one word to describe Cindy – extraordinary.
Tom Medford
Tom has volunteered with Daniel Stowe Botanical Garden for five years – serving as part of their Monday Orchid Conservatory crew, Wednesday Horticulture crew and on Thursday as a garden volunteer. Last year, he volunteered 573 hours, almost 100 hours more than any other volunteer.
In addition to volunteering in the garden three mornings every week, he also assists with special events like the Father's Day celebration and engages with all the garden guests he meets, especially in the Orchid Conservatory. In his five years of volunteering with Daniel Stowe Botanical Garden, Tom has served more than 2,600 hours.
Tom also volunteers with the American Red Cross. For the past six years, you can find Tom every Monday evening serving as a blood donor volunteer. In this role, he is responsible for greeting and checking-in blood donors and providing them with snacks and beverages. Tom has also taught CPR classes and has donated more than 30 gallons of blood to the Red Cross.
Gale Pendergraph
Gale was nominated by Charlotte Douglas International Airport where he has served as a Hospitality Ambassador for the past 10 years. He welcomes travelers from all over the world and treats each passenger as his own special guest. During those 10 years, Gale has volunteered 2,777 hours and helped over 92,000 airport passengers. Also thanks to Gale's efforts, food and beverage concessionaires at the airport can donate close-dated food to Second Harvest Food Bank.
But that's not all this dedicated volunteer does, Gale also serves at Second Harvest Food Bank for 5-10 hours each week; is a singer with the Charlotte Symphony; has donated more than 169 gallons of blood to the American Red Cross; and volunteers with the Dilworth Neighborhood Association, his church, and the Mecklenburg Board of Elections.
Ingersoll Rand
Ingersoll Rand's commitment to the community is deeply ingrained in the organization's culture. During the month of October, employees participated in more than 45 service projects with 580 volunteers donating their time, talent and treasure to a wide variety of community activities such as a wheelchair ramp build, serving meals at a shelter, and assembling furniture for those moving from homelessness to their first new home.
Ingersoll Rand also has a Dollars for Doers program that enables employees to donate $250 to the nonprofit of their choice in exchange for 20 hours of volunteer time. When they volunteer for a United Way partner agency, that amount is doubled and the agency receives $500. The Dollars For Doers program also applies to group volunteer projects. When a group of Ingersoll Rand team members collectively volunteer at least 50 hours on one project, that nonprofit is eligible to receive a $1,000 grant.
But their efforts don't stop there – Ingersoll Rand raised $1.55 million for United Way of Central Carolinas last year. With their incredible giving ethic, this year Ingersoll Rand will help nearly 250,000 families and individuals in the Charlotte region.
Source: Apr 26, 2017
Date: December 4, 2023