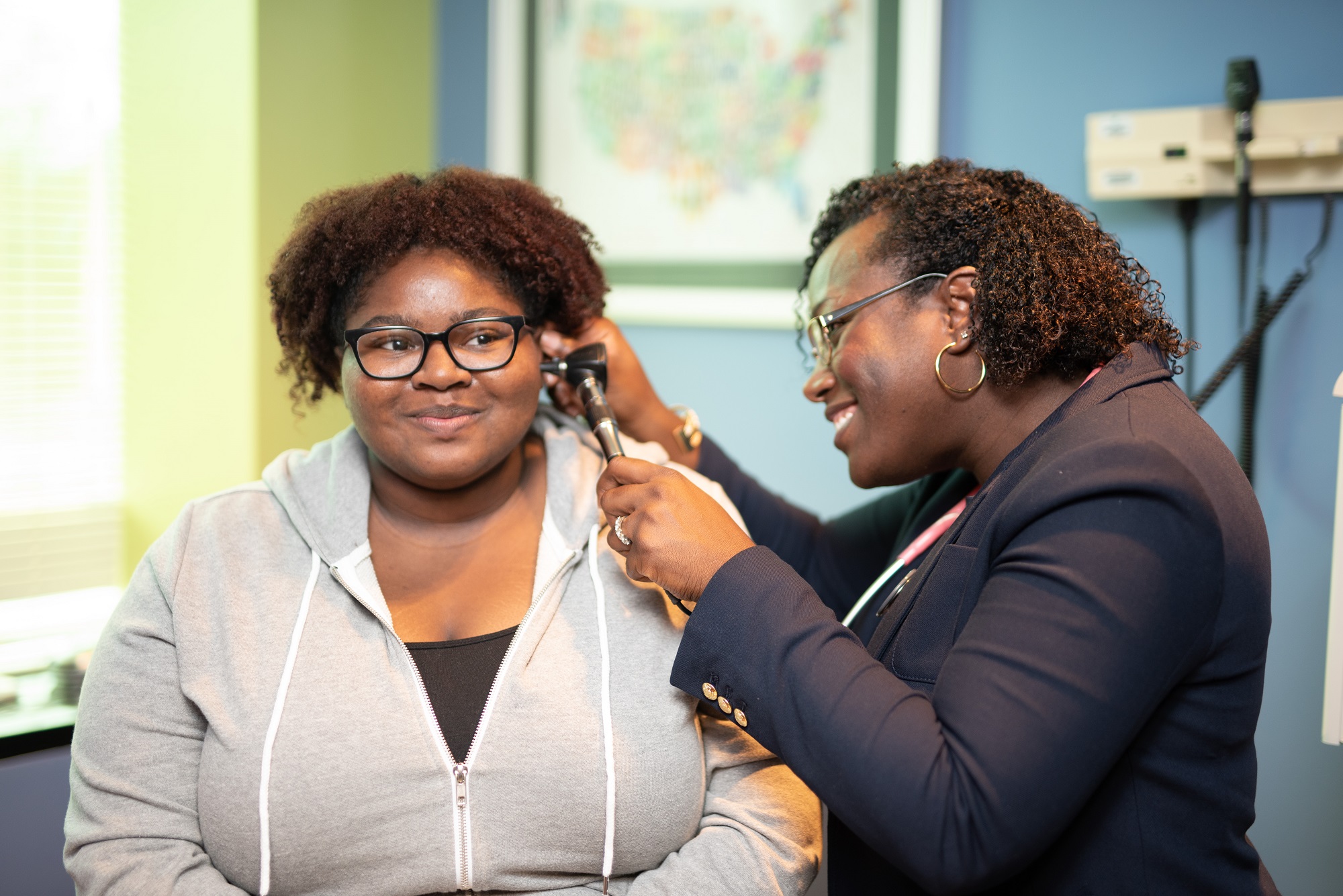 Boosting Youth Health and Happiness
Lanitta didn't have an easy childhood. Despite growing up in a middle-class, two-parent home in Charlotte, family issues and tragedies created an unstable home life. Foster care and caseworkers became part of her life at a young age.
Lanitta remembers her father dealing with disability as he got older, and her mother working hard at multiple jobs. Just before her tenth birthday, Lanitta's mother died after battling stage four cancer. Without her mother as a positive role model and her father unable to provide care, Lanitta struggled through her pre-teen years.
"I went from being a child to being pushed into a situation I didn't like," Lanitta said. "I didn't know what to do. My mom was everything to me."
Lanitta got pregnant with her daughter at age 13 and soon felt overwhelmed without people or a place she could turn to for support.
"After years of dealing with things and being numb, I was done. A 13-year-old shouldn't be going through this," Lanitta said. "And the reason I even got pregnant was because I was just looking for love, and I did not feel that."
Before Lanitta turned 14 she entered foster care.
Leading a healthier life
While in foster care, Lanitta was referred to Teen Health Connection, a nonprofit health care practice that provides medical and mental health care, prevention and education services for adolescents ages 11 to 22. United Way of Central Carolinas supports health care programs like Teen Health Connection that are changing the odds for young adults through access to quality, affordable health care and wellness education resources.
Lanitta, now 18, is maintaining a healthy lifestyle through Teen Health Connection, where she meets regularly with a primary care physician and has access to comprehensive medical health services. From nutrition guidance and sexual health services to encouragement and mentorship, the nonprofit is helping Lanitta navigate adolescence and lead a healthier life.
"At Teen Health Connection we've given Lanitta the opportunity to blossom and to shine," said Dr. Shamieka Dixon, medical director at Teen Health Connection. "She was able to participate in our Youth Leadership program, and that's an example of showing her that she can do so much more – for herself, for her daughter, for the community."
The transition from adolescence to adulthood can be challenging, which is why Teen Health Connection focuses on the whole adolescent by addressing physical, psychological and social-emotional needs. For Lanitta, it's more than being a patient at a doctor's office.
"Teen Health Connection is one of the good things I have," Lanitta said. "The people there who have pushed me to be better have seen something inside of me that I had not seen in myself."
Strong, confident and motivated
The aid of comprehensive health care programs supported by United Way helps teens like Lanitta strengthen their well-being so they can pursue higher education, achieve greater economic stability and lead more successful lives.
"If you don't take care of your physical health, things don't change," said Libby Safrit, executive director of Teen Health Connection. "What Lanitta needed was a safe place where she wouldn't be shamed for being a teen mom. At Teen Health Connection she's been welcomed."
With her physical, mental and social health on track, Lanitta is motivated to be a role model for her young daughter and pursue goals that will contribute to a fulfilling life for her family.
"Who I was before Teen Health Connection was somebody who didn't know who I was or where I was going," Lanitta said. "Now, I am confident enough to say I know who I am, I know what I believe in, I stand strongly by that and I know that I am great."
In addition to her health, Lanitta is building a more stable life with the aid of services offered by United Way partner Florence Crittenton Services. The nonprofit provides Lanitta with maternal support, assists with her education and employment and is helping her secure affordable housing.
Lanitta now is studying at UNC Charlotte Belk College of Business, working a part-time job and saving funds for a home for her and her daughter to call their own.
"I'm excited about the future," Lanitta said. "I have big plans that include me and my daughter."
Believe in the work we are doing? Give today.
Article written by Alyssa Mulliger, Content Marketing Manager, United Way of Central Carolinas.