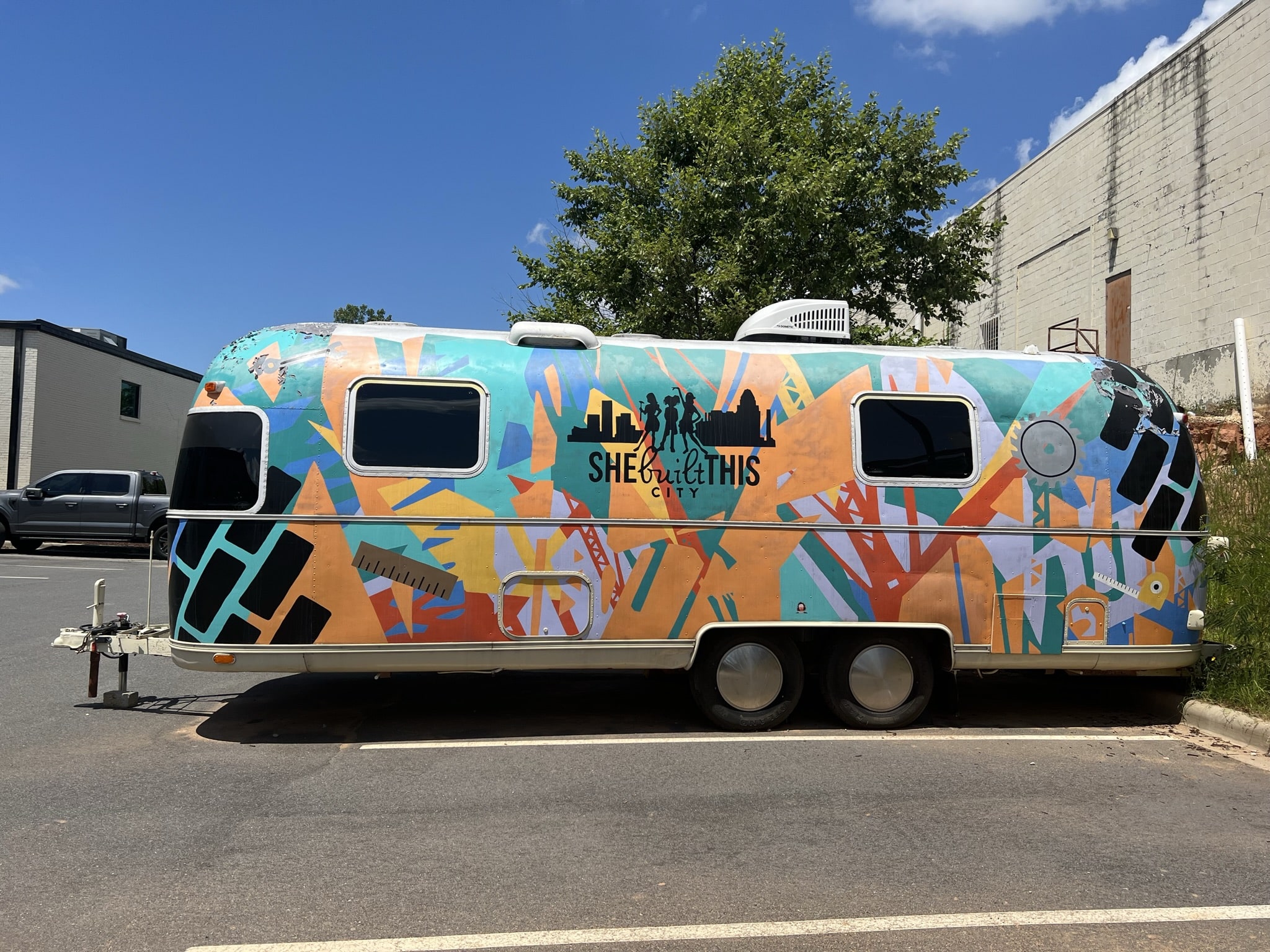 Breaking Down Barriers for Women in the Skilled Trades
"It's not just swinging a hammer," said Corporate Partnerships Manager Marion Pulse from She Built This City, a local nonprofit seeking equity for women in the skilled trades. 
She Built This City (SBTC) is a workforce development organization, but with a twist. Their mission is to spark interest in construction and other trades with women and youth in marginalized communities. The twist is that they start early, so children understand they can have a career as a carpenter, plumber, electrician or commercial painter in the future. 
SBTC was founded in 2019 by Demi Knight Clark, and is now under the leadership of Executive Director LaToya Faustin.
The work they do at SBTC was originally targeted at an all-female audience, but now reaches both male and female youth of all ages. Projects start with various one-time build programs for the youth in and around the community. These builds are simple and educational, ranging from a wooden cell phone holder all the way to a small free library that will be placed somewhere in the community.
Ages 12 and up do more complex builds involving power tools and learning more about the process of getting into a skilled trade as a career. For adults, they have a few different options available for skilled trade trainings, with pre-apprenticeships and apprenticeship programs. SBTC even provides childcare and meals to the participants in order to break down any barrier that may stand in the way of their career goals.
SBTC is currently a First Year grantee in United Way of Central Carolinas' Unite Charlotte initiative. Started in 2016, this initiative provides funding and capacity-building programs to local grassroots organizations advancing racial equity and addressing economic mobility.
Towards the end of 2019 and beginning of 2020, Founder Demi Knight Clark hit the ground running with the support of Lowe's to do what she called 'Builder Girl' clubs. The idea for these clubs was to go into middle schools and form girls' clubs where they do hands-on builds. These plans were interrupted due to the coronavirus pandemic. 
"It changed our way of impact, but it also put an exponent behind the speed of change," said LaToya Faustin, "3-D printing became one of the vehicles through which we accelerated change for our community." 
The organization used their 3-D printers to print face shields, which was one of the initiatives that United Way of Central Carolinas supported early on with a grant aimed at supporting workforce development. 
In 2020, SBTC printed over 17,000 face shields and shipped those to over 40 organizations around the country. They started with first responders, and with the help of The COVID-19 Response Fund led by United Way and Foundation For The Carolinas, SBTC was also able to provide school educators with printed face shields, no-touch keys and ear savers (to go with masks and face shields). 
SBTC also had to change the way they were teaching hands-on, one-time builds to children since they were no longer able to gather in a classroom. This prompted the creation of their mobile tool lab, POW (Power On Wheels), so they could take their programming on the road. SBTC was able to engage and serve over 500 individuals by taking POW to HOAs, the YMCA, summer camps and other community events.
The second round of funding from The COVID-19 Response Fund was for general operating costs, which are difficult to get for nonprofits. 
"We need support for our staff, so any organization, United Way in particular, is doing an amazing job of recognizing that general operating funds that an organization can use for what they need to do is game-changing," said Faustin.
As a First Year Unite Charlotte grantee, SBTC has been able to contribute funds to their general operating needs and their programming, whether they are continuing to do internal programming or offering it to other groups free of charge. 
Unite Charlotte funding also supports the nonprofit's leaders by encouraging them to participate in the Duke Nonprofit Management program, which Faustin was able to do this year to gain knowledge and change how they operated. She noted that the certification helped her learn how to secure funds, manage their board of directors, create an enduring staff structure and practice performance management. 
"All those things help us be a longstanding organization and not just a fly-by-night," said Faustin.
The last piece of Unite Charlotte funding is used towards capacity building, and in this case it is going to support future development – such as fundraising and empowering staff to become certified fundraising professionals.
"United Way is one of those funders that understands that it takes people to make programs happen. When you invest in those people, the return on your investment will never come back void because those people have since grown and can invest and dig deeper into the community," said Faustin.
Learn more about the Unite Charlotte initiative.