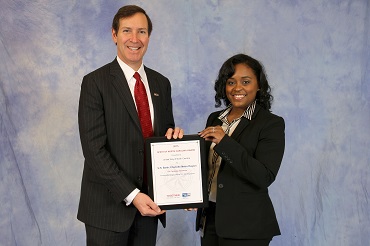 Building a Vibrant Community with US Bank
US Bank's partnership with United Way hit a key milestone this year – 30 years of working together.
The bank's Community Possible platform illustrates why they believe United Way is such a strong fit philanthropically: "We invest our time, resources and passion in economic development by supporting efforts to create stable jobs, better homes, and vibrant communities."
David Dulin, United Way's relationship manager for US Bank, relayed why United Way's work resonates so clearly with the bank. "Our financial stability work, which helps families with school children find and maintain stable homes, is exactly the type of work that US Bank wants to invest in," said Dulin.

"And you can only have a vibrant community if people are actively participating, so they really like the direction of our new community engagement groups."
The US Bank team got engaged in a big way with United Way Young Leaders' annual "Week to Fight Hunger," winning this year's Canned Castle competition. Many other employees volunteer on the boards of our partner agencies, and US Bank's Dee O'Dell is co-chairing the Opportunity Task Force; United Way will be central to helping implement the task force's recommendations.
That clear alignment translated into a highly successful campaign this year, one that earned US Bank the Spirit of North Carolina award for banking/financial institutions (201-500 local employees).