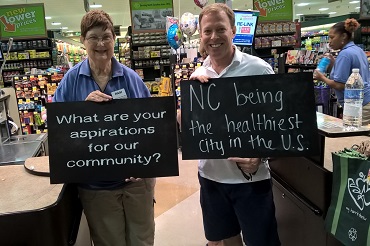 Harris Teeter Changes Lives one Customer at a Time
Hometown favorite Harris Teeter is Charlotte's largest grocer by both market share and number of stores.
So the Matthews-based chain intentionally leverages its vast customer reach to benefit United Way, spending a full month each fall sharing United Way's brand and message with every customer as they make their grocery purchase.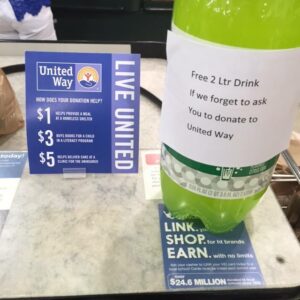 In recent years, Harris Teeter stepped up the educational aspect of their customer donation campaign, asking United Way to provide real-world examples of what a $1, $3, or $5 donation helps provide.
"Our campaigns are intended to not only raise money for United Way, but also to increase awareness of the nonprofit's role in making a tangible difference for local neighbors in need,"

said Danna Robinson, communication manager for Harris Teeter.

"We appreciate the participation of our shoppers and associates, and are thankful for their extreme generosity."
Harris Teeter associates are integral to the customer donation process, with cashiers drawing attention to the information card located prominently at each register. In conjunction with the donation card campaign, the company hosts its Community Cares Associate Giving Program, offering team members the opportunity to participate in improving their local communities via payroll deductions associates can pledge to United Way and other nonprofits.
Additionally, Harris Teeter's corporate headquarters hosts an annual golf tournament to benefit United Way.
It all adds up hundreds of thousands donated not only in United Way of Central Carolinas' five-county service area, but lives changed across all seven states where Harris Teeter operates.