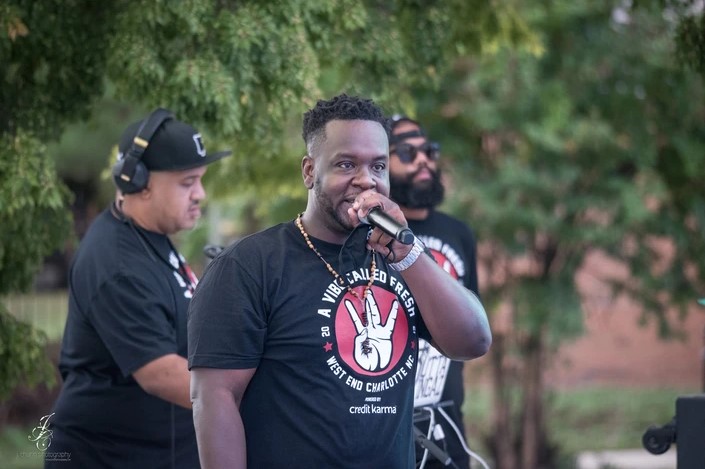 Encouraging Homeownership Through Community Celebrations
Winston Robinson's celebration of community used to be a yearly cookout with his college friends. These days, he celebrates community by providing access to organizations with resources related to homeownership while also celebrating Black culture at an outdoor festival in the West End.
Robinson was his neighborhood's president, and after learning that his neighborhood Lockwood was third on a list of the fastest gentrifying communities in the country, he felt inspired to help others maintain ownership of their communities. Through his position, he was able to make many connections to organizations like the Charlotte-Mecklenburg Housing Partnership and DreamKey Partners, and decided to take his old college tradition of a friendly cookout and turn it into something more.
The idea of an outdoor festival sparked the creation of The Applesauce Group, a nonprofit with a mission to connect people from historically disenfranchised communities to life- and trajectory-enhancing organizations that offer resources like down payment assistance programs, rental assistance, information on first-time home buying and more, and using joy to do so.
The Applesauce Group is a First Year grantee in Unite Charlotte, an initiative founded in 2016 to provide funding and capacity-building programs to local grassroots organizations advancing racial equity and addressing economic mobility.
The Applesauce Group, named for the idea that "applesauce makes medicine go down sweeter," aims to deliver uneasy essential information through something enjoyable. 
"Talking about homeownership or the home buying process is intimidating – it's difficult, it's ugly. We try to soften the delivery of that information by making it easier. Some people will find a way to make excuses to not engage, and that is where the entertainment of a festival comes in," said Robinson.
The first time Robinson held his festival, A Vibe Called Fresh, was in 2017. Since then, The Applesauce Group doesn't just convene homeownership assistance resources at this festival; they include physical and mental wellness information as well and they infuse the entire process with a sense of joy and community spirit. Through A Vibe Called Fresh, they provide a space for local artists, musicians and creatives to foster an atmosphere of celebration while simultaneously creating access to tools and organizations that encourage collaboration, support and empowerment. 
"We try to get as many trusted and vetted resources on site as we can to produce authentic and organic opportunities for engagement. That's why the entertainment aspect is so important. We want people to feel like, 'okay, I can lean into this. I'm not here as a skeptic,' said Robinson.
"That makes engagement easier for the organizations as well because people aren't as guarded when they are enjoying themselves. I call it harnessing the power of joy."
What makes The Applesauce Group's work unique is the emotional impact it has on the lives it touches. By creating a supportive and joy-filled environment, Robinson inspires hope in those who may have previously felt overwhelmed or discouraged by the daunting prospect of homeownership. The A Vibe Called Fresh festival not only provides access to crucial resources, but also serves as a reminder that the journey towards owning a home is reachable, filled with support from the community.
Through the Unite Charlotte initiative, The Applesauce Group has made invaluable connections with other nonprofits in the community, allowing them to tap into a wealth of information and expertise. With these connections, they are able to better serve individuals and add more resources into the annual festival.
"I joined Unite Charlotte and while the financial support is great, it wasn't just for the money. It was for the opportunities to learn," Robinson said, "and the knowledge I have received, about the logistics of nonprofit life and how to operate in the culture, or the etiquette, which is so specific to the nonprofit world…That is invaluable."
Being in Unite Charlotte has helped Robinson build a stronger foundation for his organization, which ultimately benefits the community members he is dedicated to helping.
"Thank you to United Way, for being so thoughtful, intentional and continuously engaging," Robinson said. 
Robinson's mission goes beyond helping his community; it's about nurturing relationships, providing access, empowering individuals and sweetening the path to homeownership. The Applesauce Group is an organization that reminds us all that with a little help and a lot of joy, we can open ourselves up to new paths, no matter how intimidating they may seem.
Learn more about the Unite Charlotte initiative.