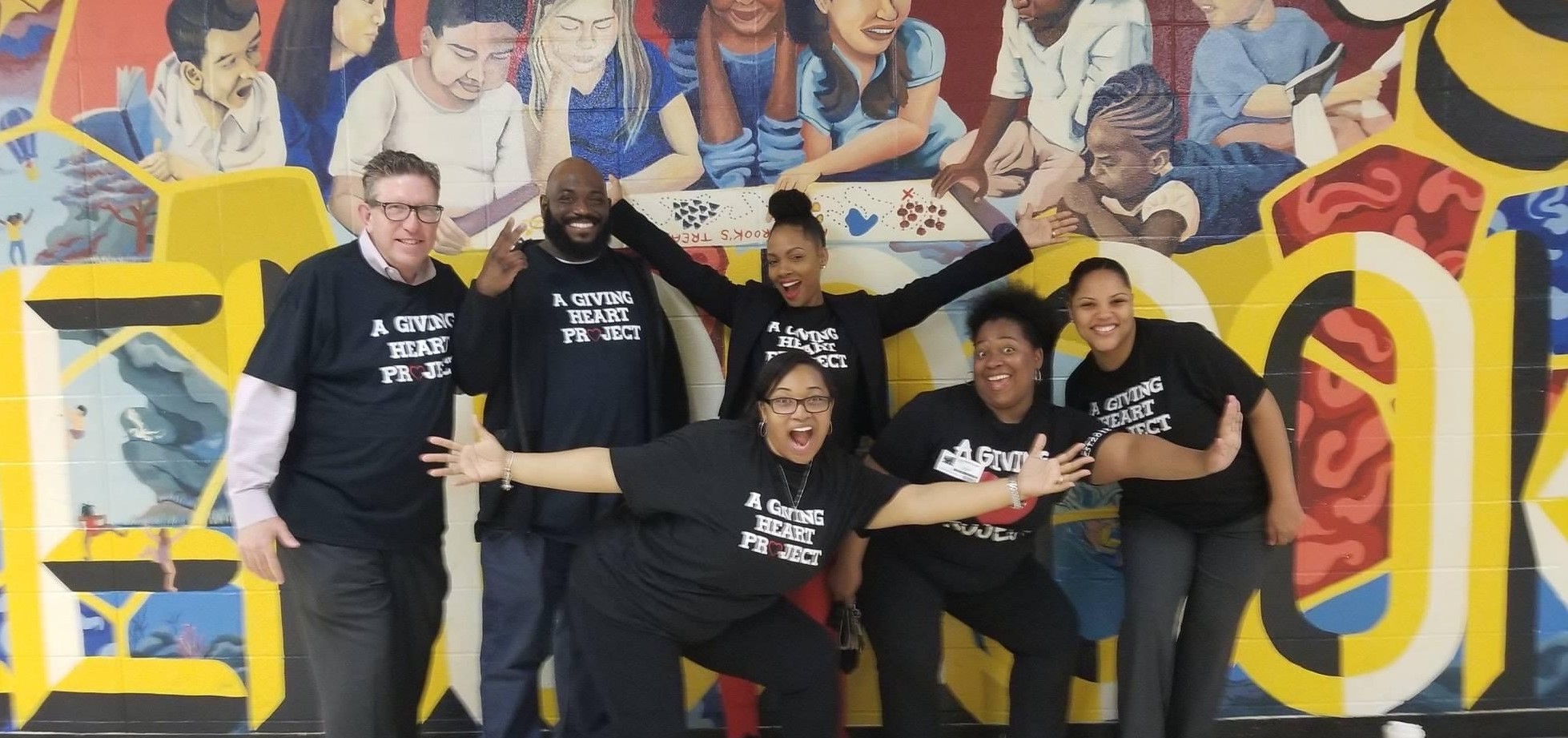 Pouring Out Love Across Communities in Charlotte
By Taylor Mabrey, Content Manager
"A Giving Heart Project was born at a time when we really felt that love was missing. There was an opportunity for more love to be poured into our community," said Co-Founder of A Giving Heart Project Glennis Davis, "And that is at the heart of The Giving Heart Project: finding strategic, informed and impactful ways to pour out love to our community."
Glennis and her husband Kevin co-founded A Giving Heart Project in 2018 with a mission to support individuals and families experiencing homelessness in the Charlotte community by providing sustainable solutions to eliminate barriers and system disparities they encounter.
There are three main projects within A Giving Heart Project: A Heart for the Homeless, A Heart for the Youth and a Heart for the Community.
A Heart for the Homeless is a program dedicated to serving neighbors experiencing homelessness through providing warm meals, clean clothes and guidance or resources on next steps for each individual
A Heart for the Youth offers school supplies, snacks, other resources and encouragement to students in Charlotte.
A Heart for the Community serves the community as a whole through neighborhood cleanup projects, supply drives, and other projects where the staff provides resources and support to families.
"As Charlotte natives, we saw areas in our city evolve and develop. Then we saw areas that were not reaping the benefits of that development. We saw the beauty emerge, but we also saw there was a lack of true empathy, love and compassion for those that are the most vulnerable in our community," said Davis.
"It wasn't enough for us to just know that there was a problem, to know that there was an inequity or that there was this kind of divisive undertone in the city – we wanted to be a part of showing love, even if that meant one service project at a time. That's what geared us towards starting the organization. The mindset of being a part of the solution."
A Giving Heart Project's strategy has recently evolved and expanded from smaller service projects to more involved case management and client navigation.
By leveraging individual experiences, case managers and licensed professionals in the community, A Giving Heart Project is able to support individuals who are experiencing homelessness or housing insecurity or are transitioning out of homelessness by helping them navigate challenges they are facing.
A Giving Heart Project is a Unite Charlotte First Year grantee, an initiative founded in 2016 to provide funding and capacity-building programs to local grassroots organizations advancing racial equity and addressing economic mobility.
"The Unite Charlotte funding has been a game changer for us. It has helped us improve our sustainability plan and gain access to invaluable education and resources. It has also helped us increase our capacity to serve individuals in our community, have a little more confidence and lose a little less sleep. When it comes down to – 'how are we going to pay for helping this family transition out of homelessness?' – that's where the real impact of those dollars is felt," said Davis.
"The unrestricted funding has created space for us where we didn't have it before. We're grateful for that opportunity and it has helped us tremendously towards our goals."
A Giving Heart Project's goals go deeper than an increased impact in the community. Davis hopes to one day have a hub where she, the staff at A Giving Heart Project and other organizations in Charlotte are able to provide wraparound services to individuals and families.
"Our dream is to have A Giving Heart Center, a center of love," said Davis.
Davis wants to have the opportunity to engage with individuals and families in a safe and warm environment, where caring and compassionate professionals provide support to help meet everyone's needs and achieve their goals for transitioning from survival to sustainability.
Other goals for A Giving Project are to continue to provide a robust suite of resources and educational opportunities for individuals experiencing homelessness and housing insecurity as well as curate a dedicated team of navigators and community specialists that will provide case management and coordination services for those individuals and families.
As a First Year grantee in Unite Charlotte, Davis was able to participate in the Duke Nonprofit Management Certification program.
"I really believe that the Duke certification will serve me and my peers very well. I'm grateful to have had the opportunity to take part and be able to apply what we learned to our work, then see it come to fruition," said Davis.
"The investment that United Way has made into myself and organizations like A Giving Heart Project has equipped us to better serve those in our community."
Learn more about the Unite Charlotte initiative.