Let's Chat! United Way Shares Its Childhood Success Impact Work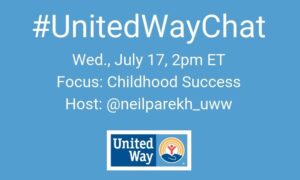 United Way of Central Carolinas joined United Ways across the country on July 17, 2019 for a #UnitedWayChat Twitter discussion to share how we're ensuring children in the Charlotte region have the tools and resources needed to reach their full potential.
Q1. Why does your United Way focus on childhood success?
A1. Children's earliest experiences can determine their ability to succeed in school and life. To positively influence our community's future, we must set our youngest minds up for success. When children are successful, the whole community thrives.
Q2. How many children were helped through your Childhood Success work in 2018?
A2. In 2018, our network of community partners working in the childhood success space served 39,208 children across our five-county region.
Q3. What specific results can you share that stem from your Childhood Success efforts (e.g. improved school readiness, reading proficiency, school attendance, grades)
A3.1. Some impressive early childhood outcomes we've seen across our five-county region during FY18:
75% of students improved or maintained their reading level
74% of students improved or maintained their math level
89% of children with development delays improved their skills
70% of students improved their attendance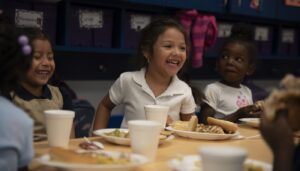 Q4. What specific partnerships, initiatives or programs has your United Way implemented to support Childhood Success (e.g. Dolly Parton Imagination Library, Born Learning, early grade reading coalition, summer and afterschool programs, community schools, reading buddies)?
A4. In Charlotte's Grier Heights neighborhood, through a community grants panel we've funded a continuum of early child care and education, after school programming and summer educational supports. See how children are succeeding:
Q5. Can you share a specific story of children or families your United Way has helped?
A5. For most of her childhood, Chloe struggled with learning disabilities, causing her to fall three grades behind peers. Thanks to education programs United Way helps fund, Chloe is meeting learning benchmarks and no longer behind. Read Chloe's story here.
Q6. How have you reached out to elected officials in support of Childhood Success?
A6. Most recently, our advocacy involved a partnership with Child Care Resources Inc. to present the "Creating a Trauma-Informed Early Childhood System" report to our community. Check out trauma info, plus strategies and next steps in the report here.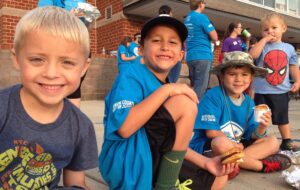 Q7. How is your United Way engaging volunteers in your Childhood Success work?
A7. The biggest way we engage volunteers (including children!) in our childhood success work is through annual community service events like Hands On Charlotte Day and MLK Call to Service, which include educational and meaningful projects.
Q8. What was your best news coverage for your Childhood Success work?
A8. This year, our best news coverage came from our investment of $26.4M in communities across the Charlotte region. The Herald Citizen highlighted many of our childhood success partners serving the Lake Norman area that received funding. Read the story here.
Q9. How has your United Way incorporated community / corporate partners and major donors into your Childhood Success work?
A9. We offer many opportunities for our community and corporate partners, as well as donors, to be involved in our childhood success work – from assembling literacy kits to volunteering inside classrooms to building playgrounds.
View more of our engagement during the #UnitedWayChat on Twitter here.