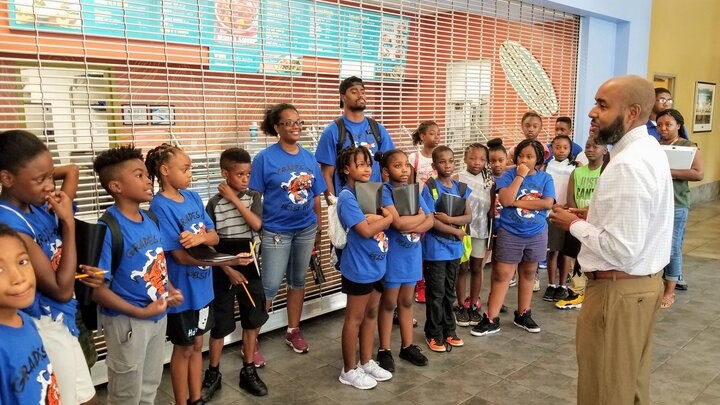 Providing Youth with the Tools & Resources to Be Successful
BY TAYLOR MABREY, CONTENT MANAGER
When a wave comes to shore and leaves, it takes away good soil that wasn't quite saturated yet. However, there is an undercurrent that follows and replaces that loose soil with a richer, more fertile soil, known as Alluvium.
"I don't try to change a child, because every child has good in them, but what I try to do is take away the less-than-perfect and replace it with something a little more substantial," said Victor Earl, Founder of Alluvium, Inc. (Alluvium).
In 2011, Victor Earl and his wife started Alluvium, a nonprofit organization that serves at-risk youth from third to eighth grade. Through academic enrichment, social-emotional learning, mentorship and life skills training, they highlight students' characteristics and talents that will help them lead productive lives.
Alluvium is a Second-Year grantee in the Unite Charlotte initiative, founded in 2016. The initiative provides funding and capacity-building programs to local grassroots organizations advancing racial equity and addressing economic mobility.
Alluvium consists of two programs: an after-school program and a summer camp program. The after-school program runs throughout the entire school year and serves approximately 80 Title I students, and the summer camp program runs for six weeks and serves approximately 50 students.
"Once we get students into the programs, we try to keep them long enough to create a cohort to get into high school and make sure they're on track with the right math, science and english classes they will need to matriculate at a community college, a 4-year university or at least be prepared for the workforce," said Earl.
"I tell kids it's okay to not go to college, but it's not okay to not have that option. And I want them to have that option."
For the afterschool program, Earl transports the students to a recreation center in Mecklenburg County. Earl, along with two certified teachers and two retired teachers, help them with their homework – doing math, reading tutorials and working with some technology. One group of kids will learn how to do computer programming, another group will focus on science activities.
The summer camp exists to keep students engaged over their break and expose them to a variety of career opportunities and colleges through field trips. They have done CPR training, culinary arts classes, college tours and more. Before the students are taken home after each of these programs, Earl and his staff feed the students a good meal.
The creation of Alluvium came after Earl was in the wrong place at the wrong time, leading him to be wrongfully incarcerated for nine months.
While incarcerated, Earl read a book every day. Other inmates noticed him reading and started coming to him to read their court information or letters from lawyers and explain it to them.
"I was in a federal detention center where everyone was in there for something major. It was amazing to see they could run a large crime organization but they couldn't read or comprehend," said Earl.
"Every gentleman I talked to said they had dropped out of school and weren't able to get into the workforce. They would say things like 'If I could go back, I would learn how to read, I would learn math, I would've done some other things that would have given me an option other than this, because nobody wants to be incarcerated."
Earl said that he would read the Bible and he told God if he could get out, he would make a difference. He wanted to make sure that people would not end up incarcerated because they couldn't read or didn't stay in school. Ever since then, it has been his mission to work with students and keep them on track with their schoolwork.
After starting this organization with his wife and their own money, Earl described the Unite Charlotte funding as a Godsend.
"The money that we have gotten from United Way was literally heaven sent and it helped take some of the stress away – we can focus more on the programming and not so much on 'Okay, we have enough to make it a couple more weeks, what are we going to do then?' So it is really great and gave me a chance to focus primarily on the kids and the programming, which is what I want to do," said Earl, "There's a cushion there and United Way provided that."
Looking forward, Earl hopes to increase his capacity and eventually expand both programs to continue through high school to keep helping students make the right decisions in school. Earl also wants to acquire a full staff and set the organization up so he is able to pass the baton down and keep his legacy alive.
"I love what I do. I'm holding true to the promise I made to God. If He got me out of that situation, I'm going to give out before I give up. And United Way has made that possible. This past year has been probable and possible because of United Way," said Earl.