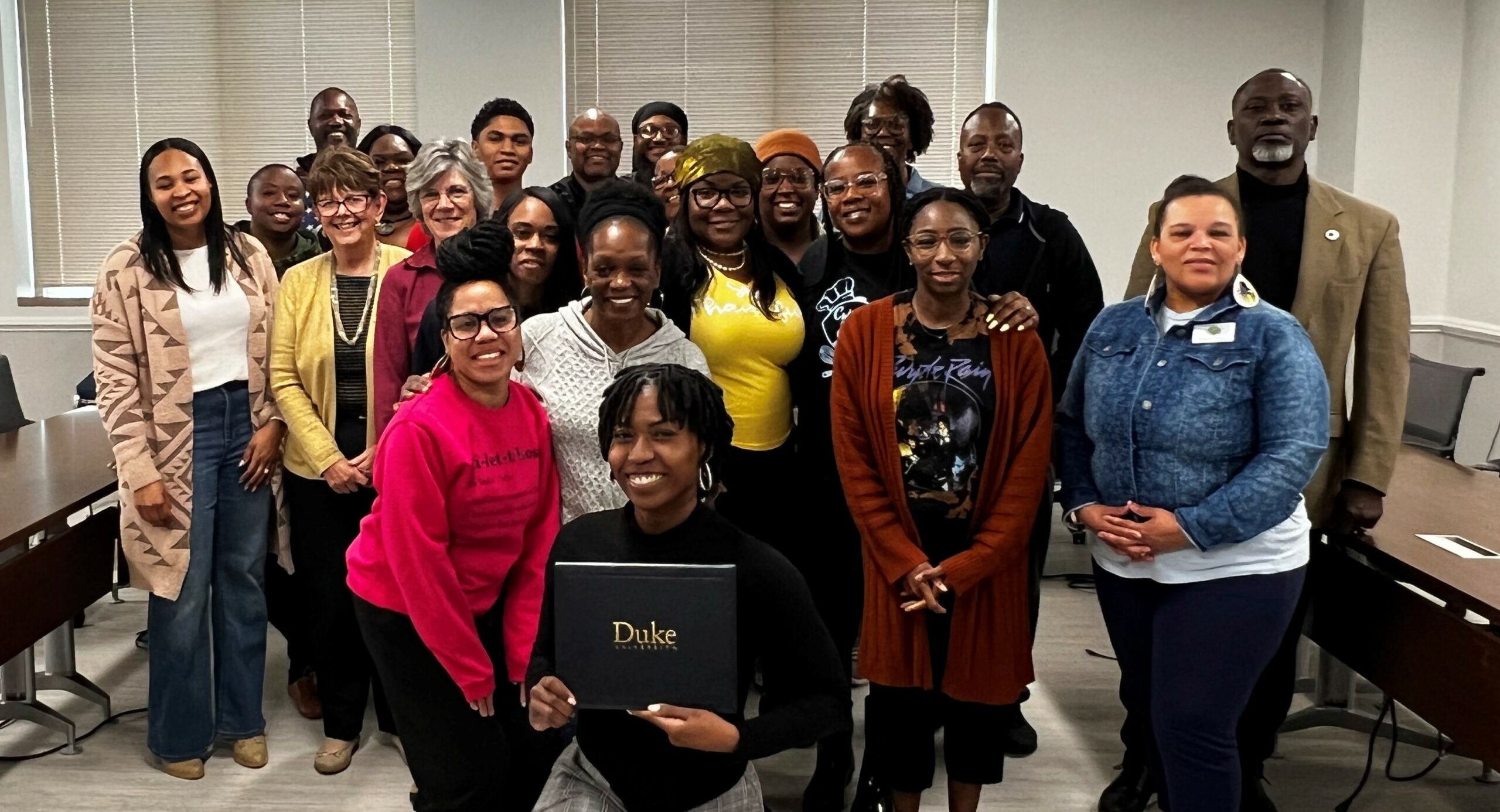 Helping Nonprofit Partners Reach New Goals with the Duke Nonprofit Management Program
Each year, United Way of Greater Charlotte arranges a cohort of 25 First Year Unite Charlotte grantees to participate in the Duke Nonprofit Management Intensive Track Program. In 2023, United Way extended this opportunity to a cohort of United Neighborhood agencies as well.
The Duke Nonprofit Management Intensive Track Program is designed to give those working in or with nonprofits the skills and expertise needed to succeed in the sector – whether they are paid staff, volunteers, philanthropists, Board of Directors, faith-based communities, or individuals transitioning from the private sector.
Over the course of eight weeks, program participants are able to take classes on Board Development and Governance; Financial Management; Financial Reporting; Community Engagement and Collaboration; Planning and Evaluation; and Employment Law for Nonprofits.
This learning opportunity is highly regarded by our nonprofit partners because of the ability to network with passionate and like-minded leaders that are providing essential services and resources to their communities.
It provides a safe space for agency leaders to ask questions, challenge each other and provide advice on how to overcome barriers. Our nonprofit partners also get to learn from experts that have decades of experience in the nonprofit world and earn a Certificate in Nonprofit Management in the process.
By the end of the course, our nonprofit partners are able to take what they have learned and apply it where it is needed in their work, whether it is adjusting their Board of Directors, getting a better hold on their financials or coming up with a new evaluation plan to track their outcomes.
Many of our nonprofit partners, like Just Do It Movement Founder and Executive Director Jessica Gibson, had great advice to give to future participants after completing the program.
"A lot of good information is given. However, you have to pace yourself, because building a sustainable organization doesn't happen overnight," Gibson said.
"It comes with patience, it comes with a process. I'd tell any other agency or founder or Executive Director to be patient with the process and allow it to work itself out. Take a lot of notes, implement what you learn and incorporate your board as you're doing that, because that'll help you alleviate some of the stress of trying to do everything at once."
The Duke program is incredibly valuable year after year as the staff at Duke are always willing to go above and beyond to curate the course offerings based on feedback from previous classes. The instructors also make themselves available to our nonprofit partners even after the course ends in order to answer any other questions or provide extra insight on anything covered in the course.
Barre Belle President Juanita Pipkin, a Unite Charlotte nonprofit partner, described the Duke program as an investment into an organization's future.
"The way you need to invest in yourself and invest in your health so you can be better, is what I would say that this program does that for us in a management sense. By taking the time to invest in our knowledge, we develop new skills, and then ultimately our organizations will be better off. Without worrying about how much time it's taking, look at this program as an investment for your future and the sustainability of your organization," Pipkin said.
Our nonprofit partners not only benefit from the knowledge of the instructors; they benefit from the knowledge of their peers as well. Hearing familiar challenges and new solutions throughout the program enables our nonprofit partners to learn even more as they build new relationships within their cohort, helping them all thrive as grassroots agencies in the nonprofit world.
Shaena Rouse is the Project Manager on the Community Impact Team at United Way of Greater Charlotte.