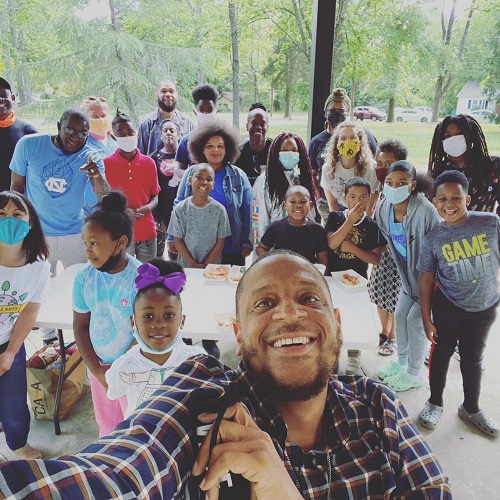 Advancing Opportunities for Youth, Families and Formerly Incarcerated Individuals
Gemini Boyd believes in second chances and better chances. Although a Charlotte native, Boyd felt like a visitor in town after he was released from prison following 20 years of incarceration. During his two decades behind bars, Boyd made a commitment to provide himself and others in his hometown with opportunities to lead productive lives.
"I was trying to figure out ways I could be impactful once I was released and I came back home," Boyd said. "People automatically assume you won't make it out [of prison] or you'd be back in there. I wanted to beat those odds."
While incarcerated, Boyd spent much of his time researching and studying everything he could find about nonprofit organizations, from how to start one to how to keep one running. Before his release, he built the foundation for his own nonprofit aimed at helping formerly incarcerated individuals, as well as setting the community's younger generations up for success.
"I learned that I could do the one thing I want to do more than anything, which is help people—while making a living at the same time," Boyd said. "In the communities I grew up in, our children aren't making it to the future. I can't wait 10 years from now to do something, because young Black males and females aren't all making it to that point."
Lifting Up Marginalized Communities
Boyd's vision for a community that is inclusive of all people led him to co-found Project B.O.L.T. (Building Outstanding Lives Together), a nonprofit on a mission to improve the quality of life for marginalized people in the Charlotte community.
"We want to be an organization that helps people in our communities and creates safe spaces for our children, and also makes sure the formerly incarcerated can get resources," Boyd said. "We want to be a hub for individuals to access those resources by building our partnerships and relationships in the community."
Project B.O.L.T is a partner of United Way's Unite Charlotte initiative, founded in 2016 by United Way of Central Carolinas following civil unrest sparked by the killing of Keith Lamont Scott, an unarmed Black man, by Charlotte police. The initiative provides funding and capacity-building programs to local grassroots organizations advancing racial equity and addressing economic mobility.
The work and mission of Project B.O.L.T. aligns with United Way's commitment to supporting programs and initiatives that increase economic mobility and strengthen the overall well-being of our community. Project B.O.L.T. strives to find new strategies for addressing housing, food security, employment and other needs to help empower people to fulfill their potential.
"I found that poverty is set in the center of the wheel, with spokes leading out to other kinds of challenges and obstacles," Boyd said. "If we can tackle some of these issues, then we can tackle poverty in marginalized communities."
Building Pride, Trust and Support
Project B.O.L.T. provides a comprehensive and holistic Recidivism Prevention Program that addresses the mental, physical and emotional needs of formerly incarcerated men and women in a safe and caring environment. The goal of the program is to help participants demonstrate a higher level of confidence, effective communication skills and pride and connect them with supportive resources.
The nonprofit also recently launched its youth organizing program to empower youth to take more pride in the people and places in their communities, build trust among other youth and find ways to bring resources into their neighborhoods.
"There's one slogan we've always said: 'Our children are our future.' But the children are our right now," Boyd said. "If we empower them right now, they're going to lead us to the future and be the leaders of the youth behind them, who will be the catalysts for things to come."
The newest initiative in the works at Project B.O.L.T. is a community broker ambassadors campaign. Boyd said the goal is for ambassadors to serve as a trustworthy bridge between neighborhoods, community services and partners in order to help support communities that need resources to thrive.
"I'm really trying to connect the people to the resources, and vice versa," Boyd said. "It's not about looking down on people, but building them up so that they can be a champion of their community to build up and be a light or vessel for someone else, too. Helping people find their purpose is part of what a community broker ambassador does."
Creating Partnerships for Greater Impact
As Project B.O.L.T. continues to grow its programming, reach and impact, Boyd is eager for what the future holds. With support received through Unite Charlotte, including capacity-building training with Duke University's Center for Continuing Studies, Boyd is better equipped in planning for his nonprofit's growth and sustainability. The Duke University program offers a curriculum tailored to nonprofits' needs to help them understand the business of nonprofit management.
"The Duke training was very powerful and we are grateful to United Way of Central Carolinas for recognizing the needs of the community and what can be done," Boyd said. "United Way is empowering organizations in the community like Project B.O.L.T."
While Boyd knows his nonprofit cannot tackle every issue facing the Charlotte community, what he does know is by partnering with more organizations he can have a greater impact in supporting neighbors and communities in need.
"United Way understands that we have to build partnerships with the people closest to the problems because they are the closest to the solutions," Boyd said. "I hope and pray we get more companies and organizations in Charlotte to understand this, to latch on to more of these grassroots nonprofits and to continue to invest in our communities."
Support Unite Charlotte partners like Project B.O.L.T. by giving today.
Article written by Alyssa Mulliger, Content Marketing Manager, United Way of Central Carolinas.