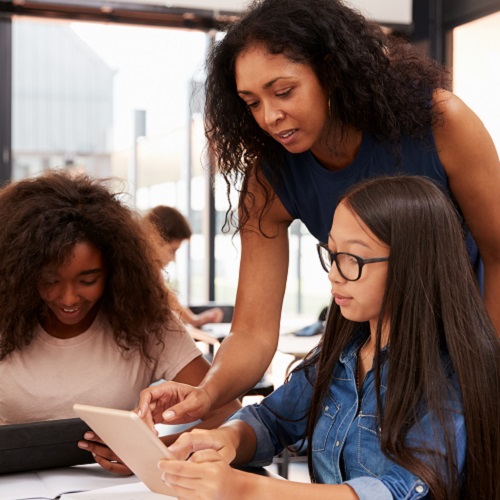 Cultivating Our Community's Youngest Leaders
Courtnie McIntosh didn't always feel like she had adequate resources or a strong support system to guide her on the path to success. An Anson County native who moved to Charlotte during her sophomore year of high school, McIntosh struggled with transitioning after graduation.
"I knew how to go to work, but I didn't know how to go to college. No one around me knew the process," McIntosh said. "I wasn't equipped with information to make informed decisions. It was overwhelming and I felt lost."
With the little knowledge she did have about college, McIntosh applied and was accepted to Virginia State University. Looking to get more involved with her community, she joined Delta Sigma Theta Sorority, Inc. and soon realized the kind of impact that a network of supportive people can have on academic excellence and social capital.
"I came to find the power of accountability partners and group mentorship," McIntosh said. "Successful people have a network around them; they aren't doing life alone."
Brian George, a native of Birmingham who attended college in Mississippi, felt behind the curve as a young adult with few resources to develop interpersonal relationships and learn leadership skills.
"When I was growing up, nobody showed me these things – things that are valuable to young men," George said. "Young men are very impressionable and you can have some real conversations at that age."
Having lived in Charlotte for 26 years, George still sees a gap in educational and leadership development opportunities for young minority men. Such opportunities help foster academic excellence, social refinement and cultural preparedness.
"There's always a concern when you hear and see young minority males growing up in challenging households, getting in trouble and struggling in school," George said. "I see myself in these young men and recognize how important mentorship is and people taking an interest in you and saying they believe in you."
Setting Youth Up for Success
Today, McIntosh and George are at the helm of two grassroots nonprofits cultivating young leaders through access to educational and social development programs.
McIntosh is executive director of The Academy of Goal Achievers, which she founded in 2013. The organization develops youth leaders to impact communities, while preparing students and families for post-secondary success.
George is executive director of Building Excellence Affirming Manhood (B.E.A.M.) Foundation, founded in 1997 by members of the Alpha Phi Alpha Fraternity, Inc. alumni chapter in Charlotte, including George. The organization educates young minority men through service, leadership development and experiential learning.
The Academy of Goal Achievers and B.E.A.M. Foundation are United Way Unite Charlotte partners. Unite Charlotte was founded in 2016 by United Way of Central Carolinas following civil unrest sparked by the killing of Keith Lamont Scott, an unarmed Black man, by Charlotte police. The initiative provides funding and capacity-building programs to local grassroots organizations advancing racial equity and addressing economic mobility.
The work and mission of The Academy of Goal Achievers and B.E.A.M. Foundation align with United Way's efforts to ensure every young person in our community has the knowledge, skills and resources to create a successful path from school to career, and beyond. United Way knows that to change the future of our community, we need to set children, young adults and their families up for success.
Mentoring the Goal Achievers
McIntosh's vision for The Academy of Goal Achievers is to equip every youth and family with access to resources that will help guide their leadership development and post-secondary education goals. Through its intensive mentoring group program called Goal Achievers, the organization focuses on educational guidance, mentoring, relationship building and community inclusion.
Fifteen students were in the inaugural Goal Achievers class. Nearly eight years later, 150 students have gone through the mentoring program and 94 percent of graduating seniors have reached their post-secondary education goals, McIntosh said.
"We are developing youth leaders to impact communities," McIntosh said. "We expose students to all types of pathways like entrepreneurship, trade schools and two- and four-year colleges to get them ready and equipped to handle the workforce and the world."
Other growth opportunities include career exploration, job shadowing, internships, college preparation, tutoring and parent educational classes including topics like understanding the college process, financially preparing children for the future and building self-esteem within the home.
"We have a two-generational model at The Academy of Goal Achievers where we focus on the child and parent. My mom always cared, she just needed more information and that supportive network to help me," McIntosh said. "If we can create a network for students and for parents, then we are serving and helping the whole family."
Elevating Young Minority Men
At B.E.A.M. Foundation, George is carrying out the mission to help young men achieve academic excellence, social refinement and cultural awareness while preparing them for college. The organization's Alpha Academy program pairs young minority men in middle and high school with mentors who help refine academic performance, interpersonal relationships and professional skills.
"The idea was a group of us got together and wanted to establish a nonprofit to provide educational and leadership development to young minority males in Charlotte," George said. "With the Alpha Academy, we have workshops with young men where we teach them everything from how to cook to how to address conflict."
B.E.A.M. Foundation has served hundreds of youth, George said, including many young men who have graduated from the organization's Alpha Beautillion Program. The program helps prepare students for college, secure scholarship funding, enhance civic responsibility and encourage self-motivation.
The organization also introduced its newest program in summer 2020 – a Coding Academy for young Black men in middle school that teaches the elements of coding and software development. Students learn STEM (science, technology, engineering and mathematics) skills through hands-on learning and mentorship by technology professionals.
"We wanted to introduce STEM to more young men so it will spark an interest in them to continue their STEM education and consider choosing a STEM-related career. I's a very fruitful career path," George said.
Looking to the Future
McIntosh and George both see program expansion and growth of their nonprofits in the near future. Both executive directors are more confident in planning for this growth after completing capacity-building training with United Way of Central Carolinas to earn a certificate in nonprofit management from Duke University's Center for Continuing Studies. The Duke University program offers a curriculum tailored to nonprofits' needs to help them understand the business of nonprofit management.
"The partnership with United Way has given us the opportunity to learn, build capacity and support our operations, which is key for a grassroots organization that is trying to grow," McIntosh said. "United Way is why we have been able to get to where we are today."
"The relationship with United Way has provided many tools to assist us – from how to write a grant, how to identify funders, how to write a project plan and how to better run a nonprofit. All of these tools have been so beneficial to us," George added. "United Way has allowed us to meet other terrific nonprofits out here doing exceptional work, and I'm hopeful for the opportunity to partner with some of them in the future."
Support Unite Charlotte partners like The Academy of Goal Achievers and B.E.A.M. Foundation by giving today.
Article written by Alyssa Mulliger, Content Marketing Manager, United Way of Central Carolinas.