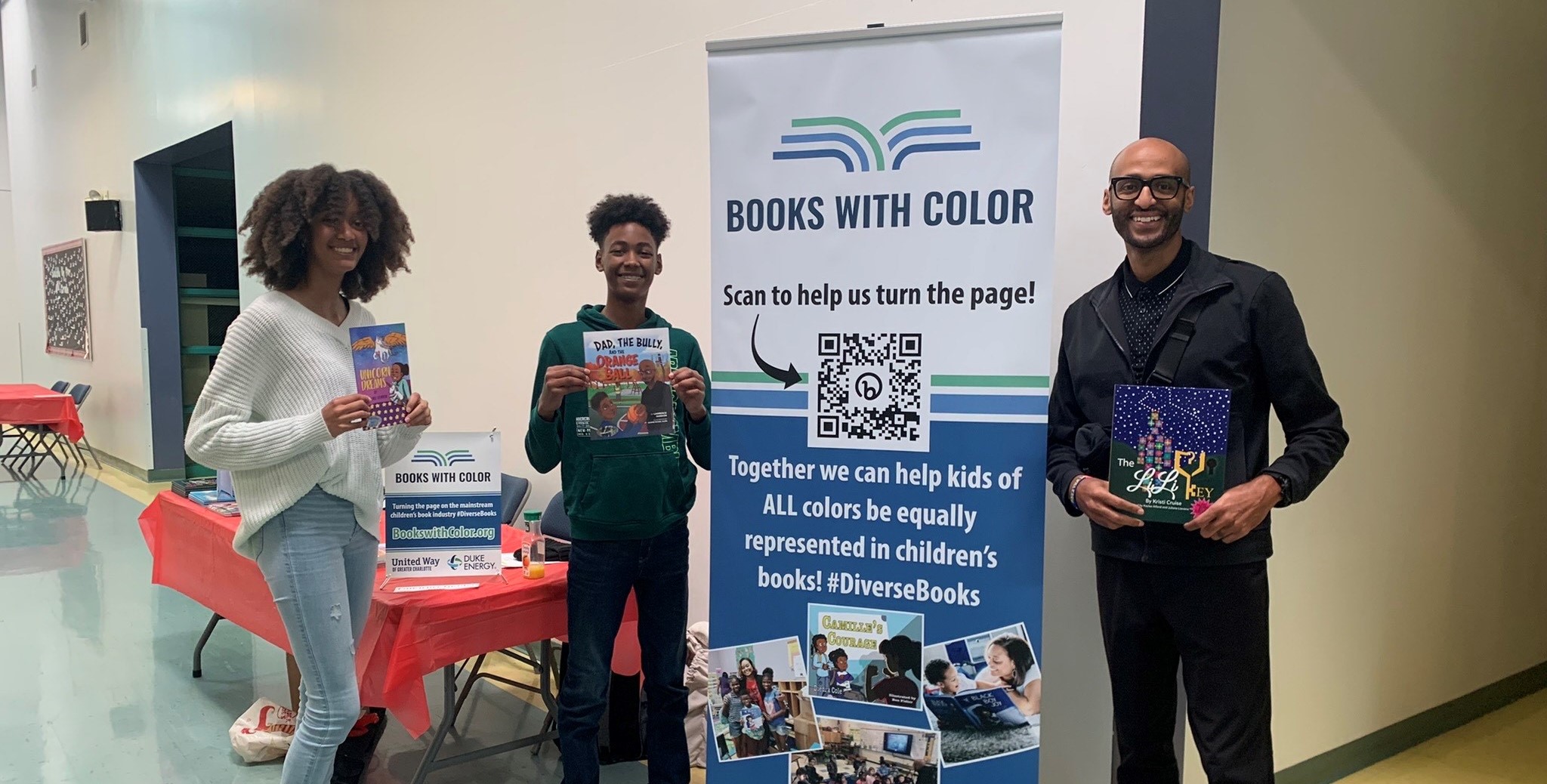 Increasing Representation and Diversity in Children's Books Across Charlotte
By Taylor Mabrey, Content Manager
"One thing that I love is representation. I love getting the opportunity to see kids that look like me represented in literature," said author and co-founder of Books With Color Lawrence Gordon.
Gordon's mother was an educator, and after she passed, Lawrence decided to lean into literacy and began to write books with his children to feel close to her. His first book, "Unicorn Dreams," was written for his daughter and included messages of bravery, dreaming and believing – important messages for a child to hear from their father. He followed "Unicorn Dreams" with a book he wrote for his son, "Dad, The Bully, and the Orange Ball." This connection and experience made Gordon realize the impact of reading to his children.
Gordon spread the word to his neighbors and soon formed a book club, where he would gather with fellow parents and children to read stories in their community. The group of about 20-30 individuals would meet every Monday, and when the pandemic hit the weekly meetings continued via Instagram Live. Gordon would lead the book club and broadcast from his backyard where he would read alone or with his children, or another child from his community would lead the reading.
"Did you know that 85% of brain development happens before the age of three? It is so important to read to your children. I've had a parent ask me if she should start reading to her baby while pregnant, and I said yes, they can hear you," Gordon said.
After becoming an author and advocate for reading, a good friend put Gordon in contact with Kristi Cruise. Cruise founded Living Libraries, is an author of the bilingual "The LiLi Key" series and she is an advocate for diverse literature, sharing Gordon's passion for seeing representation in children's books.
Together, they founded Books With Color, a nonprofit that supports diversity-driven authors and brings representation into school libraries and classrooms all around Charlotte. Their third team member and secretary is Charlitta Hatch, author of the "Black Boy Joy" series and founder of the #Me3project movement.
Books With Color is a First-Year grantee in the Unite Charlotte initiative, founded in 2016. The initiative provides funding and capacity-building programs to local grassroots organizations advancing racial equity and addressing economic mobility.
"Both Kristi and I believe that one of the reasons why literacy rates are down is because, well, why would I pick up a book where I'm not represented?" Gordon said. "I really think that if kids see themselves in books, then they will pick up a book."
Gordon and Cruise have created an Author Alliance, where they invite local authors who write diverse books to add representation in children's literature. United Way funding is used to support these authors by buying their books and distributing them to classrooms all over Charlotte. Gordon said this is helping them be more impactful in the community.
"I tell people all the time you can't do it by yourself. It's going to take people like us to create things like Books With Color to get out here and just try to impact the people we can touch everyday," Gordon said. "One kid at a time, a few kids at a time, and just go from there. And we hope that we continue to keep this thing going because when you start to really impact these kids, it has to be sustainable."
Gordon and Cruise want Books With Color to consistently provide inclusive literature to show up for these kids and their teachers, while also growing and evolving. In addition to providing books to students in classrooms, they provide worksheets to teachers as guides for creating healthy discussions around the stories.
As an entrepreneur, Gordon believes in having a vision and looking to the future.
"I think with Books With Color, the number one goal is for us to create libraries in each school that we connect with," Gordon said.
"It should be normal to go into a library and see a book with someone that looks like you. That doesn't mean we shouldn't celebrate it and make it special on occasion, but it should be normal. That's our goal for the next year or two or three. Normalizing Books With Color."
Learn more about the Unite Charlotte initiative.