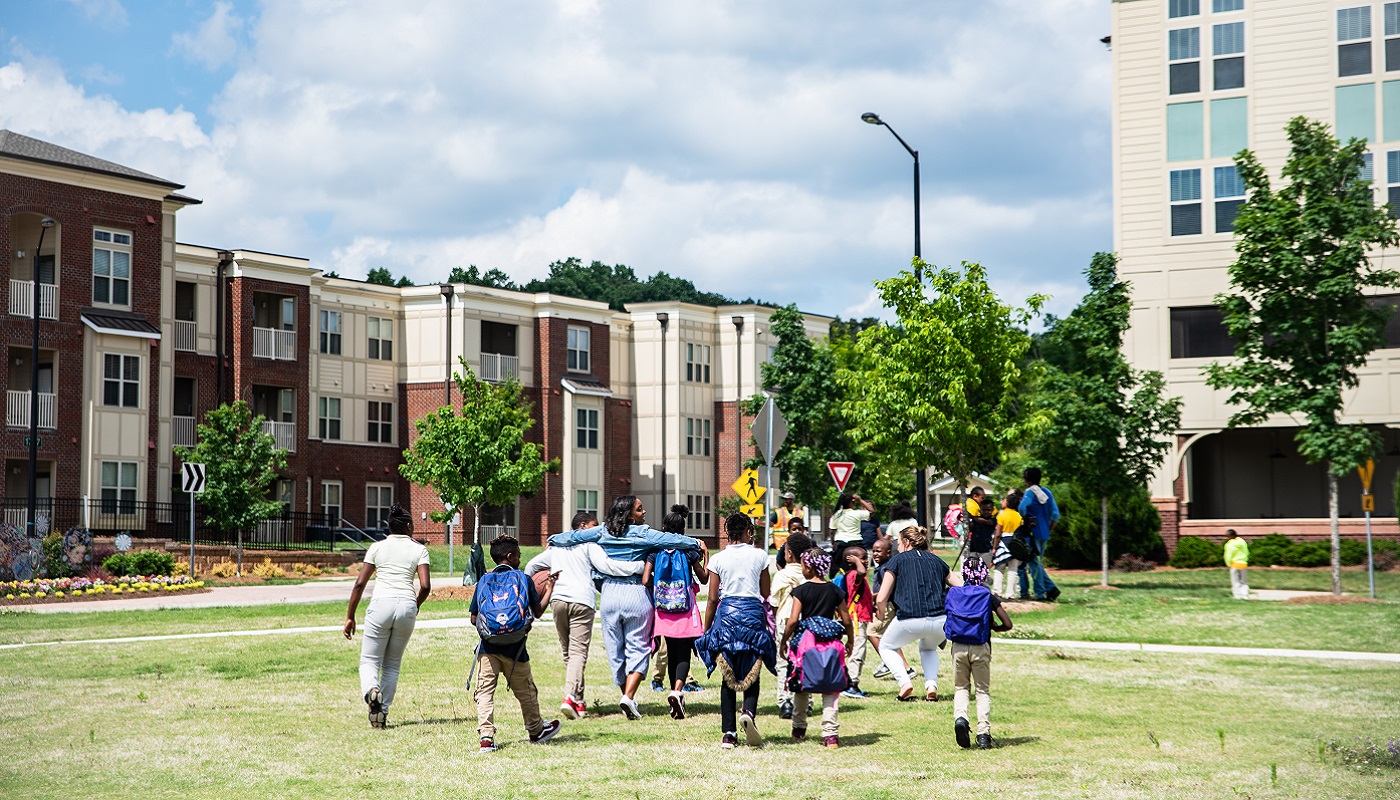 Making Neighborhood Strides in Renaissance
United Way of Central Carolinas' United Neighborhoods funds and guides community partners to help change the odds for individuals and families living in our region's most under-resourced neighborhoods. From financial stability to affordable housing to quality education, the needs of these communities are many and varied.
There was a time when Renaissance resident Beverly Ann Miller didn't feel at home in her neighborhood. The Charlotte native was thankful to have a roof over her head, but wasn't happy when she moved into the Boulevard Homes public housing project after her home of 41 years was condemned.
"It was OK, you just had to stay to yourself and there was a lot of drama going on … a lot of chaos," Beverly said.
Located off West Boulevard, the Renaissance neighborhood is home to about 1,000 residents. Over the years they have faced challenges that come with living in a poverty-stricken area, from high crime to poor quality housing.
A stone's throw away is Little Rock Apartments, a privately owned, subsidized apartment complex built nearly 50 years ago. Little Rock's several hundred residents often are considered part of the Renaissance footprint.
Jackie Tynan, senior associate program officer with Renaissance West Community Initiative(RWCI), said the area's concentrated poverty created a stressful environment for residents, leading to high unemployment, low educational attainment and a median income of $8,000.
"It was a traditional negative setup for a very non-prosperous neighborhood," Jackie said.
These factors are changing as Renaissance undergoes revitalization into a mixed-income community where families have access to quality education, health and financial stability resources and a greater chance for success. This work is bolstered by the support of United Way of Central Carolinas' United Neighborhoods initiative.
Launched in 2017, United Neighborhoods begins with a $2.4 million commitment over three years in the Renaissance and Grier Heights neighborhoods in Charlotte. In 2018, the initiative expands with the addition of grants for neighborhoods including Brookhill, Hidden Valley, Lakewood, Smithville, West Boulevard Corridor and an effort focused on Freedom Drive.
In each neighborhood United Way is working with community quarterbacks to fund and guide efforts toward building thriving neighborhoods where families want to live, while generating outcomes that can impact multiple generations.
Lifting families out of poverty
With a vision to transform the area into a safer and more vibrant neighborhood, the Charlotte Housing Authority used a 2010 federal grant to demolish Boulevard Homes, which it owned, and rebuild at the site.
The Housing Authority's redevelopment strategy was based on the Purpose Built Communities model pioneered in the mid-1990s after success in the East Lake neighborhood of Atlanta, GA. The model involves a community quarterback in the neighborhood that leads revitalization efforts.
In Renaissance, RWCI serves as the quarterback to ensure community needs are met, funding is secured and partners are held accountable for providing effective programs to help lift families out of poverty and toward self-sufficiency. RWCI is tackling issues of upward mobility by focusing on critical factors like quality housing that's safe and affordable, a cradle-to-career education pipeline and family stability.
"This is truly a customized approach that's not cookie-cutter," said William "Mack" McDonald, CEO of RWCI. "Each family has their own needs and has their own desires. This whole concept is about helping families break the cycles of generational poverty."
The nonprofit also partners with various community organizations to provide services like financial literacy workshops, youth programs, job training and wellness classes. Care coordinators and life navigators assist residents in creating goals and plans for being successful.
"We're not telling residents what they need to do," Jackie said. "Everything is driven by the residents and it is really about having a caring, deep relationship with them."
Making neighborhood strides
Following the demolition of Boulevard Homes, a mixed-income housing complex of rental apartments and townhouses was built in phases and completed in 2015 and 2016.
The 334 family units include public, Section 8, tax-credit, market-rate and senior housing. Subsidized units come with a stipulation that tenants must be employed, attending school or undergoing training for so many hours each week. The housing complex includes a large community center that has the RWCI offices, resident programming and an outdoor pool.
"There's a lot of stuff going on in the community now," Beverly said. "The swimming pool, the computer lab, the exercise room – we didn't have all that back then."
To set a trajectory for future success of children in the neighborhood, RWCI developed the Renaissance West STEAM Academy and Howard Levine Child Development Center. The facilities opened their doors in August 2017 and February 2018, respectively.
The child development center serves children ages 6 weeks to 5 years old and is run by the YMCA of Greater Charlotte to deliver a high-quality, affordable early learning experience. The school initially served children in grades preK-5, and opened to grades 6-8 during the 2018-19 schoolyear. RWCI runs the school through a partnership with Charlotte Mecklenburg Schools.
Enrollment priority at both facilities is given to children living in Renaissance and Little Rock.
"RWCI was a nonprofit created to serve the residents at Renaissance, but we can't serve them without serving Little Rock," Jackie said. "It was very quickly apparent that there's as many, if not more, children living at Little Rock as there are at Renaissance."
Feeling more like home
While much of the neighborhood's critical infrastructure has been created, there is more to be done. As RWCI and its partners continue working to create opportunity across the neighborhood, United Neighborhoods funding is helping the organization strengthen infrastructure, engage in community planning and provide grants to other nonprofits serving the Renaissance neighborhood based on residents' needs.
"United Way has been a catalyst for change historically and present. And that's what they're doing here," said Jamila White, program officer with RWCI. "When I think of Renaissance I think of the past, but also I think of growth and I think of stability and I think of longevity. And I see that here."
And for residents like Beverly, the neighborhood has come a long way and is starting to resemble home.
"The neighborhood, it's a good neighborhood. It's better than it were," Beverly said. "Now I'm happy. This feels like home."
Believe in the work we are doing? Give today.
Article written by Alyssa Mulliger, Content Marketing Manager, United Way of Central Carolinas.