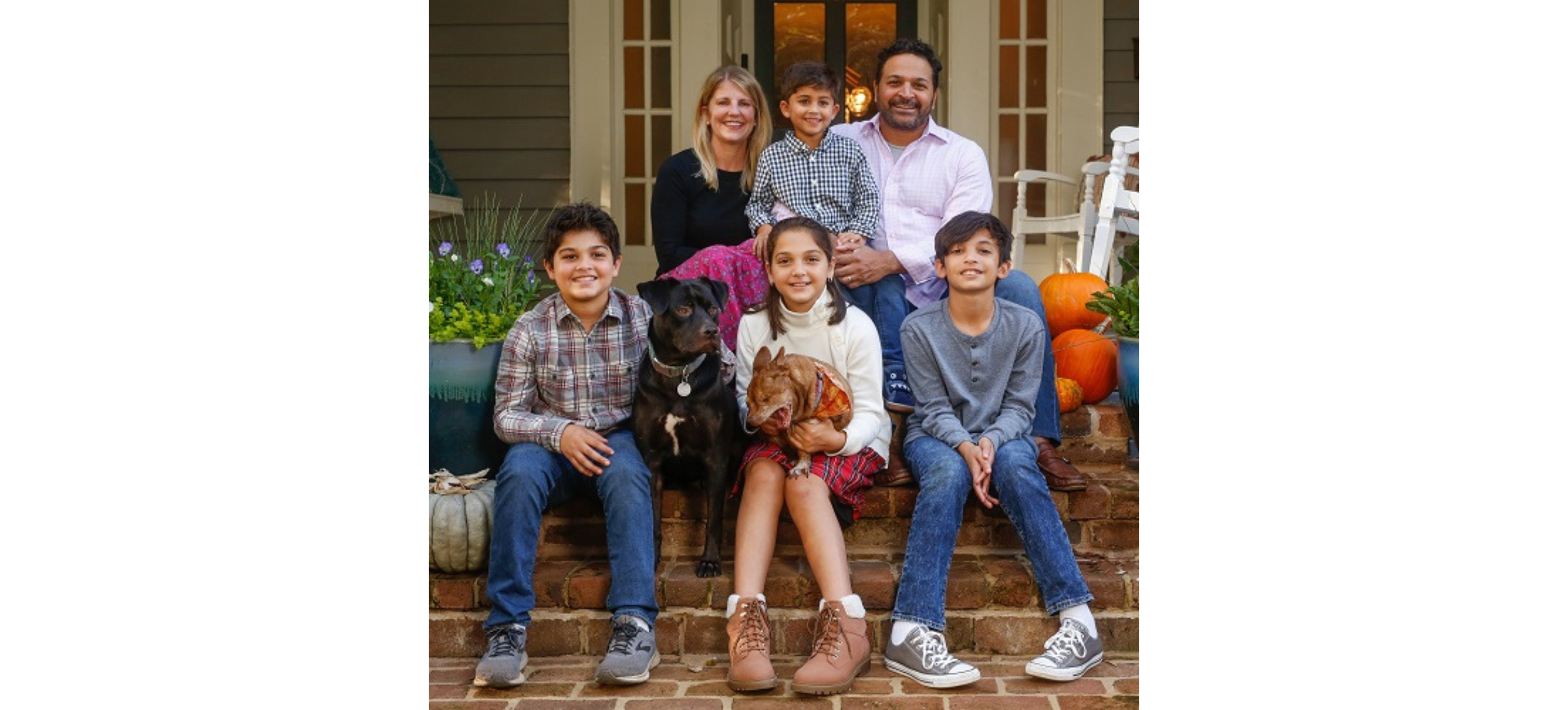 Tocqueville Society Spotlight | Raj and Carter Arey Natarajan
United Way of Central Carolinas' Alexis de Tocqueville Society recognizes a select group of change-makers with an unsurpassed dedication to making a positive impact in the Charlotte region. The Tocqueville Society is comprised of civic and business leaders whose vision for our community is matched by their generosity. Donors who contribute unrestricted gifts of $10,000 and above are recognized within the Tocqueville Society.
Tocqueville Society members Raj and Carter Arey Natarajan continue to value philanthropy and know the importance of investing in their community. Raj moved to Charlotte from Atlanta in 2007, joined United Way's Board of Directors this year and is a partner and Debt Finance department chair at McGuireWoods, a firm that provides legal and public affairs solutions to corporate, individual and nonprofit clients. Carter, a native of Charlotte, is innovation counsel and ClientSync team lead at McGuireWoods. Raj and Carter have four children—Jude (12), Bodhi (10), Violet (10) and Ren (5).
United Way's major gifts team recently caught up with Raj and Carter to learn how they've been inspired to give back, what needs they see in our community and why they support United Way.
Who or what inspires you to give back to the community?
Raj: The law firms that I've been associated with all had similar cultures and inspired me to give back. We are strongly encouraged to give back, and at McGuireWoods, our leaders have always set that example.
Carter: My grandfather, who was a doctor who did volunteer work with the Cabarrus County health department, inspired me. He traveled around the world delivering babies in Africa, Europe and other areas. I came from a modest background and feel a responsibility to always set a good example by using talent and access to do good.
How are you and your family involved in philanthropy?
Raj: The law firm and legal community have driven us both to be active philanthropists. Before we met, we were really engaged in philanthropy and when we met, we talked about how we could be intentional about our philanthropy. We've both been invested in this community as long as we've lived here.
Carter: For our kids, their school, Trinity Episcopal, has been phenomenal in finding ways to give back through service learning starting in kindergarten. For example, at the school they've grown vegetables in their garden and taken them to Urban Ministry Center and included them for Friendship Trays. Over Thanksgiving, we made lunches for folks at Roof Above and recently did Valentine's packages for them. We are finding ways to make philanthropy a part of our kids' DNA.
What do you see as the most urgent needs of the Charlotte community?
Raj: Over the past 13 years, incredible numbers of people have moved to Charlotte. But, there is a lack of affordable housing here. I've seen a city that is growing fast, but leaving people behind. We've got to figure a way to accommodate all people because everyone deserves an affordable and safe home.
Carter: For me, it's filling the upward mobility gaps for kids—access to education, healthcare and housing. I'm seeing this now more than ever because some kids don't have the space, technology or resources to learn and study at home. I also think we as a community need to strive for equal treatment and make sure everyone's basic needs are met.
Why should others with the ability to become Tocqueville Society members invest in United Way at that level?
Raj: Because they can and have the means to do so. Instead of giving to one organization or cause, giving unrestricted to United Way is the one contribution you can make where people, community volunteers, are being thoughtful about where it's going.
Carter: Donations to United Way stay in our community and are evaluated by United Way to ensure meaningful outcomes. Giving to United Way is a smart contribution. We're both educated, but we don't have the time to study every impactful nonprofit—United Way does that for donors through its staff and volunteers.
Why do you choose to support United Way of Central Carolinas?
Raj: I've given to United Way ever since I was a first-year lawyer. United Way is efficient, evaluates where the greatest needs are and I know where our dollars are going.
Carter: I agree, and we as donors are proud to give to United Way. We are helping to fund progress in our community because United Way is putting our dollars where they will make the biggest impact.