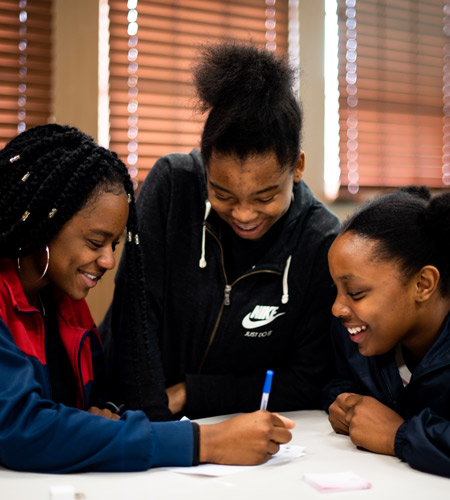 Guiding Future Young Professionals
United Way of Central Carolinas' Unite Charlotte works with small, grassroots organizations to improve racial equity and increase social capital. Since launching Unite Charlotte in 2016 in response to the civic unrest in Charlotte, United Way has invested nearly $900,000 in organizations including Stiletto Boss University.
Jania Massey knows firsthand the impact that educational opportunities can have on oneself and the larger community.
Raised on the west side of Charlotte, Jania found she wasn't surrounded by options for advancement. After working hard to become a successful philanthropist and entrepreneur, Jania sought a way to fill the void she saw with social capital and opportunity for girls of color in Charlotte.
"I realized how me being a young black woman growing up, I wasn't exposed to a lot of opportunity," she said. "I was thinking how could it would have been if I had known more when I was younger."
Inspired by this personal experience, in 2015 Jania founded Stiletto Boss University to train high school girls using entrepreneurship as the foundation for teaching the power of collaboration and sisterhood. The nonprofit's goal is to help young women build skills and confidence needed to create social enterprises able to generate income, while also giving back to the community.
Stiletto Boss University is a 2018 grantee of Unite Charlotte, a program led by United Way of Central Carolinas that provides early funding for local nonprofits and grassroots organizations focused on improving racial equity and increasing social capital.
Stiletto Boss University's youth entrepreneurship program was piloted at Harding University High School during the 2015-16 school year, in partnership with MeckEd's Career Pathways. The nine-month program consists of weekly training sessions led by experts ranging from finance to wellness; brainstorming and development of a viable business; and pitching the business to local professionals with the goal of securing an internship.
Following a successful pilot program, in 2016 Stiletto Boss University's first official chapter launched in the Grier Heights neighborhood in partnership with CrossRoads Corporation for Affordable Housing and Community Development. In 2017, another program chapter was implemented in partnership with Communities in Schools at West Charlotte High School, Jania's alma mater.
"Through conversations in the neighborhood I could hear that young girls had ideas, but they didn't know how to really assert themselves to execute those ideas," Jania said. "I saw that as an opportunity to teach them how to do this. As I continued to see the girls and hang out with them, I saw myself in each and every last one of them."
In the Grier Heights chapter, eight girls in the program created Ei8gt Group, a small business rooted in serving others and giving back to the Grier Heights community. The business donates profits from its inspirational T-shirts, tote bags and accessories – and soon a book – to the neighborhood.
"For them to leave with their whole business plan and being able to pitch it…It was like, we did it," said Brandi Fox, who helped Jania expand the nonprofit and now serves as the West Charlotte chapter ambassador. "We worked from literally nothing to a whole established business, and I think it gave the girls confidence."
Unite Charlotte funds helped Stiletto Boss University in 2017 develop infrastructure for the youth entrepreneurship program. In fall 2018, Stiletto Boss University intends to serve more girls by launching a chapter of the program at Harding University High using Unite Charlotte funding.
"Stiletto Boss University is about connecting young women to opportunities, building social capital and creating the next generation of community leaders," Jania said. "If we didn't have this funding we wouldn't have been able to really execute this program. I'm very grateful that United Way sees the vision."
Believe in the work we are doing? Give today.
Article written by Alyssa Mulliger, Content Marketing Manager, United Way of Central Carolinas.