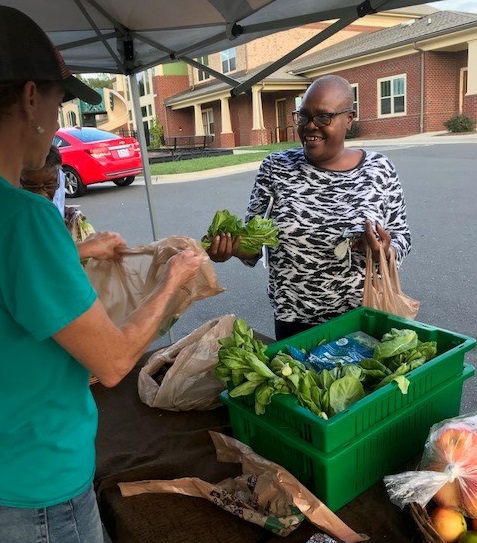 Tackling Food Insecurity in West Charlotte
For residents like Ms. Moore, eating well and accessing healthy, affordable groceries on a consistent basis are challenging when living in a lower-income, food insecure community.
"I don't always have money in my budget to be able to afford items like fresh produce," said Moore, who lives in the Renaissance neighborhood in west Charlotte.
About one in five people in Mecklenburg County are food insecure. In Renaissance, many of Moore's neighbors share her concerns, which are taken seriously by people such as Marsha Clark, a financial counselor with Community Link.
Through United Way of Central Carolinas' United Neighborhoods initiative, Clark works in partnership with Renaissance West Community Initiative (RWCI) to help residents manage finances and budget for food.
"A lot of people can't spend a lot on their groceries because they have many other bills," Clark said. "Produce, meats, dairy and bread are expensive."
But with support and guidance from United Neighborhoods, the odds are changing for residents facing food insecurity in our community.
Filling a Neighborhood Need
During a community visioning meeting held last year by United Way and RWCI, food insecurity was a hot topic raised by Renaissance residents, said Jamese Pinkston, community engagement officer with RWCI.
"We wanted a way to get fresh food into our neighborhood that's easily accessible to residents on a regular basis," Pinkston said. "We were introduced to The Bulb mobile farmers market and fell in love with what they stand for and what they could do for our community."
Alicia Pruett founded The Bulb in October 2016 with the vision to have a healthy impact on vulnerable neighborhoods by addressing barriers to resources. Today, the mobile market system serves up to 30 neighborhoods in Mecklenburg County and York County, S.C. every month.
United Neighborhoods helped RWCI partner with The Bulb for weekly visits to Renaissance to provide residents with local produce, healthy groceries and wellness education.
During the market's first visit to Renaissance, about 100 people from 30 families took advantage of the healthy and fresh foods like sweet potatoes, peppers, tomatoes, greens, eggs and cheese. Subsequent visits have drawn lines of residents before the market even opens.
"Residents are utilizing this market more and more to make sure they have enough healthy food in their house for their family," Clark said. "It is helping them out a whole lot."
Growing to Serve More Residents
The Bulb's mobile market system is supplied through a combination of food rescued from grocery stores, produce grown in gardens by The Bulb team and items gleaned from local farmers.
"Funding from United Way is allowing us to pay farmers for more products that we wouldn't normally have, and that people need or want," Pruett said. "I'm really excited to keep growing."
The Bulb plans to visit Renaissance every Tuesday with rotating items based on availability and the season.
"Having this here is great for the seniors that live in Renaissance like myself," Moore said. "It also helps with my diet because of my diabetes. I'm very thankful."
The market is open to everyone living in the neighborhood, including residents at Little Rock Apartments. The goal is to serve 200 residents every week, Pruett said.
"To have The Bulb here every week in our community with fresh vegetables, fruit, eggs and more fills a void for our families," Pinkston said. "It's a game-changer for our residents."
Believe in the work we are doing? Give today.
Article written by Alyssa Mulliger, Content Marketing Manager, United Way of Central Carolinas.